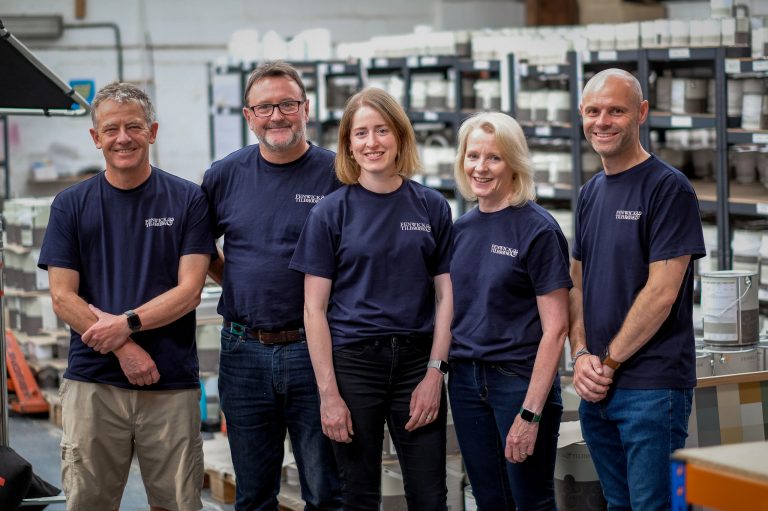 Discover the artistry of Fenwick & Tilbrook, a truly family-owned and operated paint brand based in Norfolk, England.
Our premium, pigment-rich paints redefine excellence, embrace enduring quality, and deliver intense depth of colour without compromising on durability. Packed with superior solids and high-quality natural pigments, our extensive colour palette is made to order in six beautiful finishes. Our signature product, Pure Matt Plus, provides an exquisite 3% low sheen finish that is both scrubbable and classed as 'minimal' in volatile organic compounds (VOCs). Browse our finishes here.
Fenwick and Tilbrook was founded by Simon and Clare Tilbrook, who set out to revive the manufacture for a brand that had ceased trading. In 2018, the brand as seen today was born, out of a passion for creating high-quality paints that elevate any space. Simon and Clare saw a gap in the market for a premium paint brand that offered the highest level of performance and artistry, and they set out to create just that.
Today, Fenwick & Tilbrook remains a family-owned and operated business, with Clare's daughter Anna and her husband Dave Hill at the helm with part-time support from the lovely Jon (and Margo the dog)! We are committed to providing our customers with the best paints on the market, alongside the highest level of customer service and expert advice. Our paints are inspired by the unique and beautiful colours of the British countryside, coastline, and wildlife and our colour palette is designed to complement any home, from traditional to modern.
In addition to our premium paints, we also offer a variety of other products, including colour cards, A5 painted sheet samples, scrubbable emulsion and highly breathable clay paint for lime plaster. Whether you're looking to update the colour of your walls or add a touch of luxury to your home, Fenwick & Tilbrook has the perfect paint for you.
Browse our range and order samples online, order a luxury colourcard or give us a ring!