Lorraine Sakharet | Decorbuddi
Designed by Lorraine Sakharet, the brief was to redesign an existing playroom to accommodate a home bar and entertainment space for the adults whilst still utilising the space for the rest of the family especially the client's youngest son for gaming, board games, home cinema and family time. Since completion, it has already become the most popular space in the house, with much fun entertaining, family time and dancing to date.
Helping the clients step a little outside of their comfort zone, Lorraine worked on creating the look and feel for the room, including special layout, furnishings, flooring, storage, bar, wallcoverings, lighting recommendations and bespoke upholstery and soft furnishings.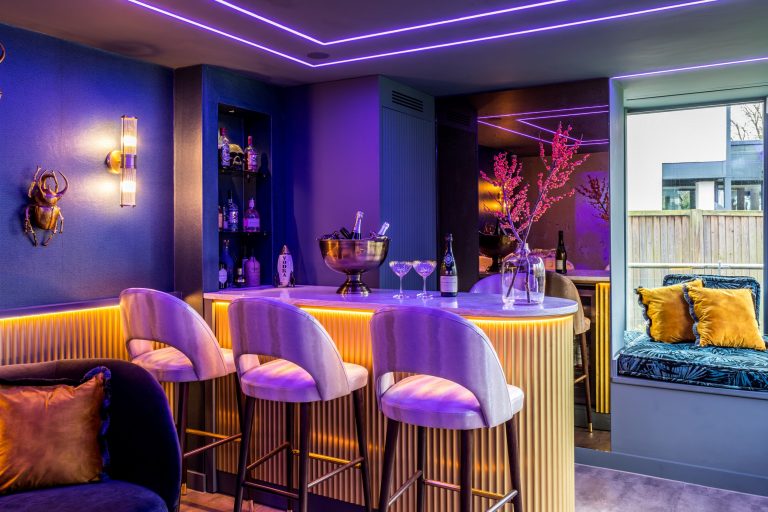 The design includes the latest light sound and media technology commissioning a short-range ceiling-mounted hidden projector and LED lights plastered into the ceiling. The design involved accommodating a large technical hub that is the control centre for the entire house and couldn't be moved. Moreover, behind the existing shelving housed an unused air distribution and cooling unit that needed to be decommissioned and cut off from the rest of the house to utilise the space. However, the installers of the cooling unit had gone into liquidation so one of the challenges of this project was to find an expert to decommission without affecting the rest of the house.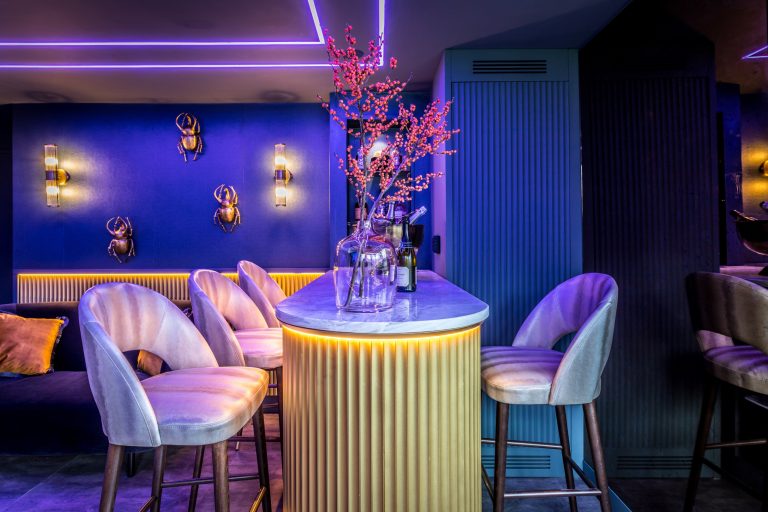 The space is immersive. Utilising a whole wall on one side of the room for the projector for watching movies and playing video games. On the other, a bar was constructed with space to stand and host guests whilst relaxing on the comfortable bespoke bar-stools.
The bar features gold panelling which works well with our Riverstone around the rest of the space, including the ceiling – giving the whole room an atmospheric, cocooning feel.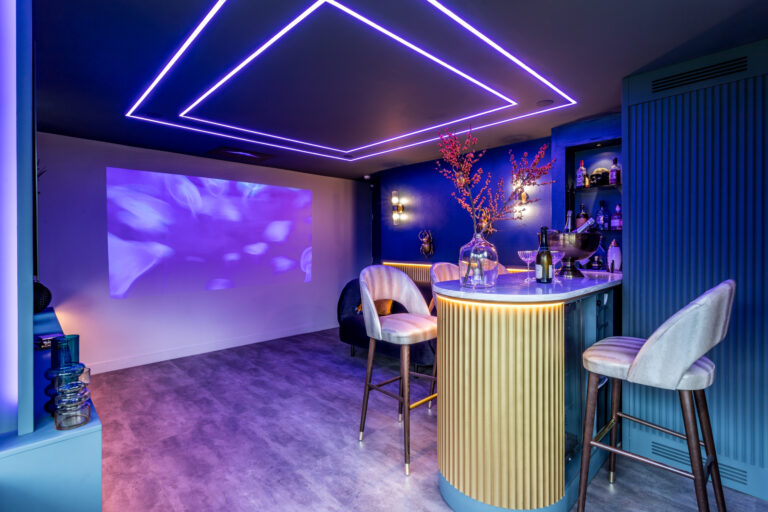 The carpet has been replaced with luxury yet industrial vinyl as a fun yet practical solution to a space where drinks will be served and food may be consumed.
A dark and moody ambience was achieved by painting the walls in River Stone. Programmable colour changing LED strips set the mood depending on the event.
Credits
Decorbuddi: Lorraine Sakharet
Photography: KT1 Photography
Tech Consultancy & Implementation: Arcadia Bespoke
Panelling: Orac Decor
Paint: Fenwick and Tilbrook
Fabric: Linwood
Sofa: Love Your Home
Flooring: Harvey Maria
Wallpaper: Thibaut Design
Featured Colours
Order sample
68. River Stone
£5 sample pots and £1.50 painted sheets (where available) come in a 'Pure Matt Plus' finish. Sample pots are 100ml and Painted sheets are now A5 in size. Due to the limitations of digital displays, and variations in screen resolutions, the images on our website can only be a representation of the paint colour. We would always suggest getting a sample sheet or pot before making your final choice.