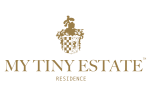 Tiny Estate Ochre
Tiny Estate Ochre was created for the laundry room at the Caretaker's Cottage belonging to Dean & Borja of My Tiny Estate.
Please note, this bespoke colour is available in Exterior Eggshell only (sample pot sold as Exterior Eggshell)
£5 sample pots and £1 painted sheets (where available) come in a 'Pure Matt Plus' finish. Sample pots are 100ml and Painted sheets are approx 14 x 7cm. Due to the limitations of digital displays, and variations in screen resolutions, the images on our website can only be a representation of the paint colour. We would always suggest getting a sample sheet or pot before making your final choice.