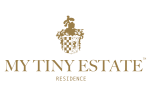 Tiny Estate Ochre
Tiny Estate Ochre was created for the laundry room at the Caretaker's Cottage belonging to Dean & Borja of My Tiny Estate.
Please note, this bespoke colour is available in Exterior Eggshell only (sample pot sold as Exterior Eggshell)
Available finishes
Combining ultimate durability with colour intensity.

A water-based eggshell with a satin sheen, designed to protect exterior timber structures in even the harshest of weather conditions. An outstandingly durable product with exterior grade colourants designed not to fade. Suitable for woodwork, masonry, and primed metalwork.

Satin sheen 20%

Available in: 1L, 2.5L and 5L.