Katie Woods | Smurf House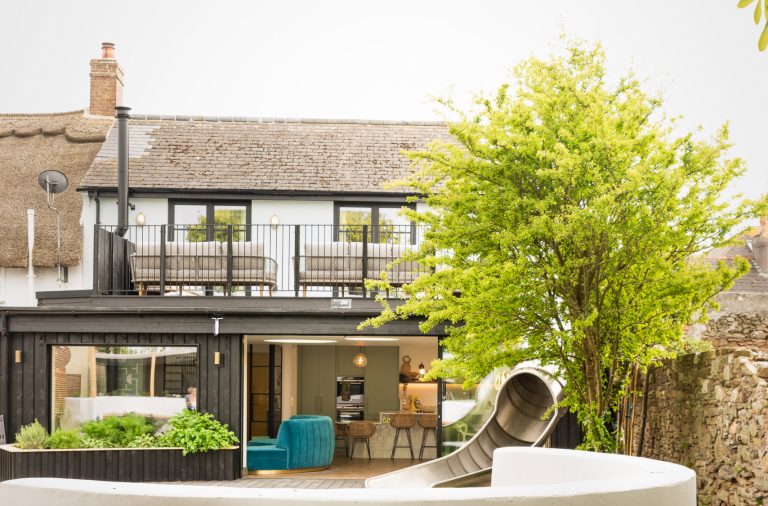 Instagram sensation, Katie Woods aka @comedowntothewoods holiday let has been designed with accessibility at the forefront of the ground floor design. Turning this once higgledy-piggledy home near Salcombe in Devon into an open plan dream property complete with slide to take you from balcony to garden!
The exterior masonry to the rear of the property has been painted in Fenwick & Tilbrook 'Great Lake'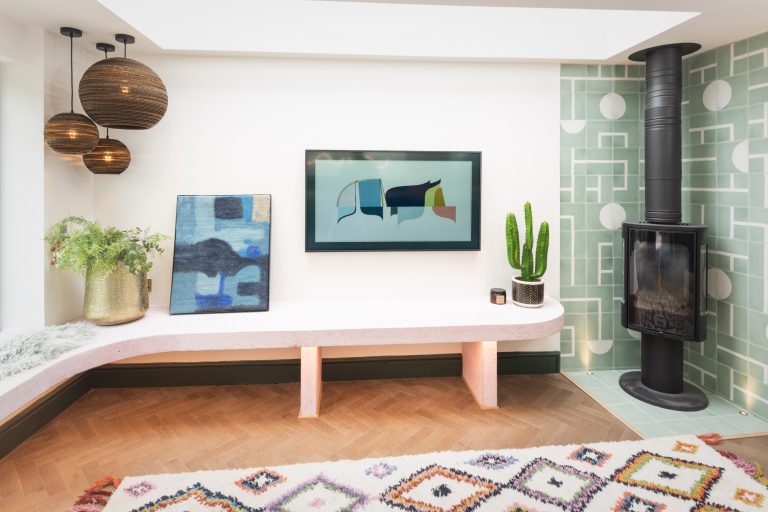 Katie's design choices are bold and beautiful. With furniture, tiling and woodwork being the surfaces where pattern and colour are used the most.
Each room has its own colour pop coming through on the woodwork which we LOVE, all grounded by our soft very slightly creamy off-white 'Puffball'.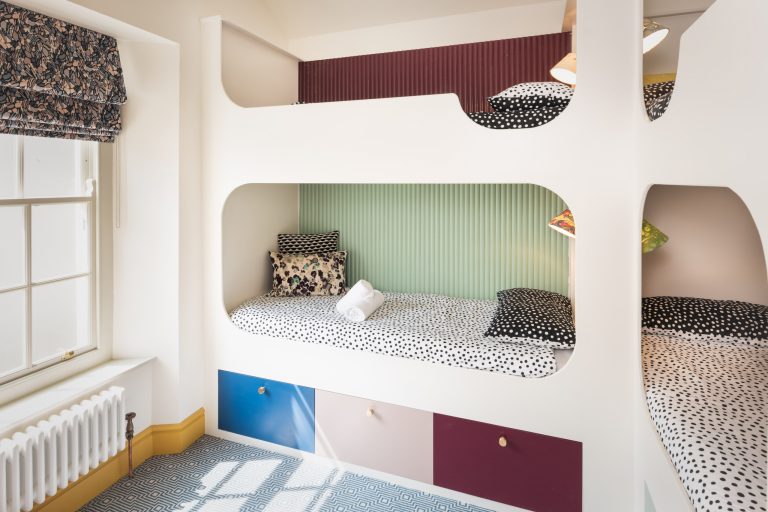 The bespoke build bunk room is the most playful space in the house – with each bunk having its own backdrop colour and corresponding drawer.
Together with Puffball on the walls and bedframes and Gorse on the skirting board, the 4 colours used here are:
Pall Mall
Polkerris
Kingfisher
Portobello Road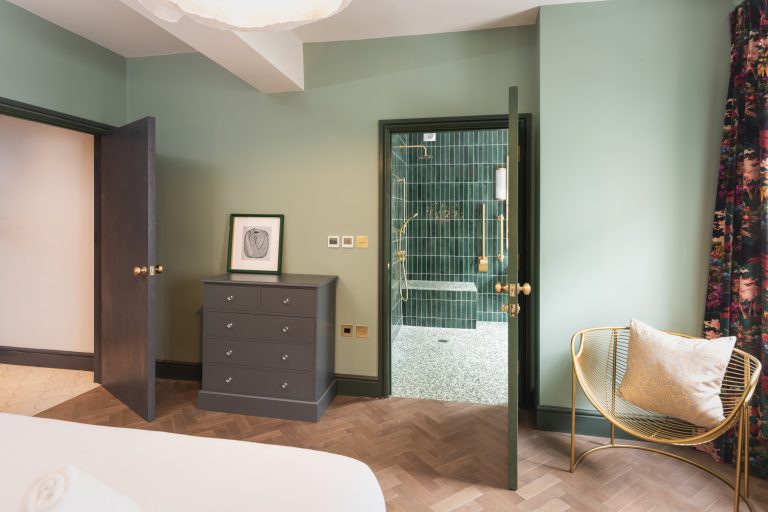 The ground floor has been designed to be fully wheel chair accessible friendly, with a ground floor bedroom an adjoining bathroom suitable for wheelchair users or for those less mobile. The shower room is luxurious whilst still fully fit for purpose, with dedicated built in seating and brass grab rails.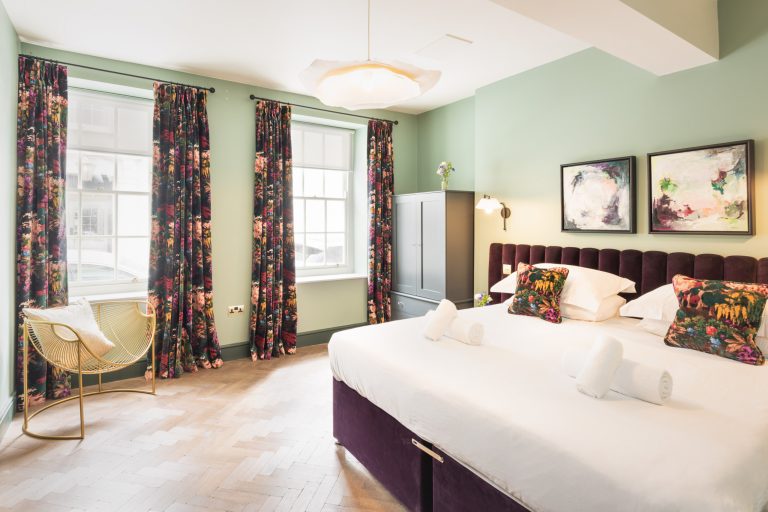 All bedrooms have been designed to the highest standard, with vibrant colour schemes and luxury furnishings throughout.
Each room has a different colour scheme with neutral 'Puffball' on the walls in all first floor bedrooms, to allow the colour pops on the woodwork and built in cabinetry, together with the furnishings do all the talking!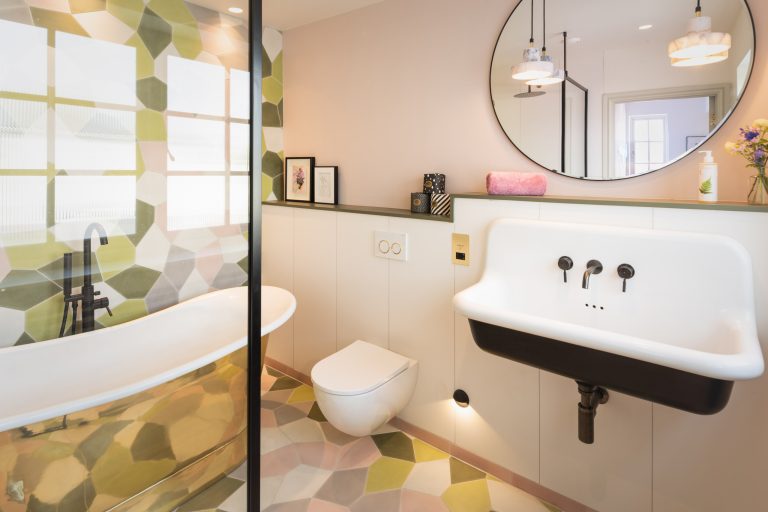 This first floor bathroom is the ultimate in luxury. Featuring 'Smudgewand' on the walls, a soft earthy pink, together with gold bath from London Encaustic and handmade-to-order Popham Design tiles from Day True.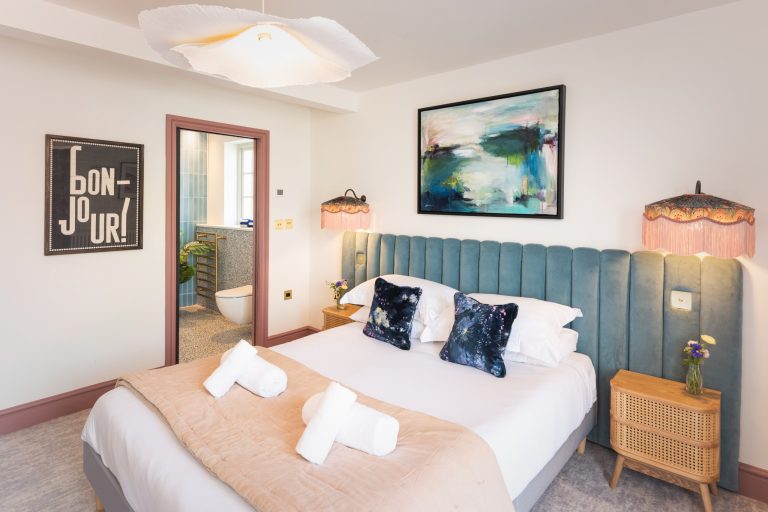 Featured Colours