Shepherds Huts at Titchwell Manor Hotel, North Norfolk
When we decided to have two Shepherds Huts built for Titchwell Manor, I knew straight away that Fenwick and Tilbrook would provide colour inspiration for the scheme of the huts.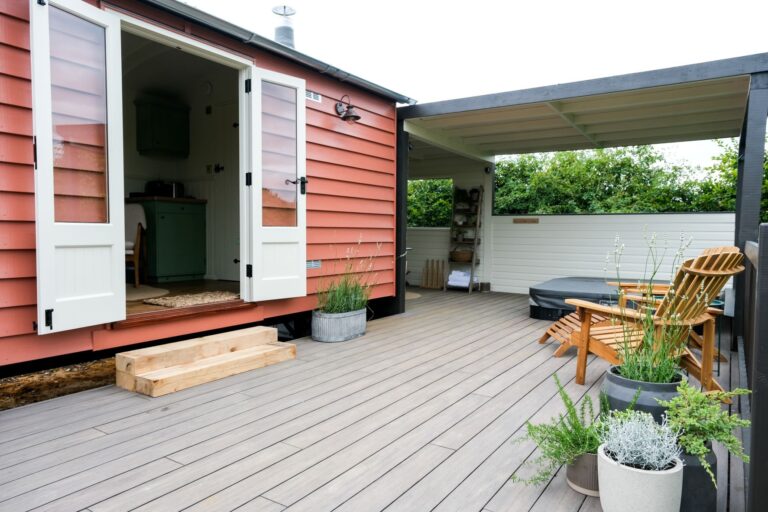 Colour inspiration
I chose soft colours for the exterior that would capture our area of the Norfolk coast and also reflect the dusky colours of the perennial planting that we had planned for the landscaping.
Wax Lyrical and Farthing on both tie the surrounding woodwork and allow the other colours to sing.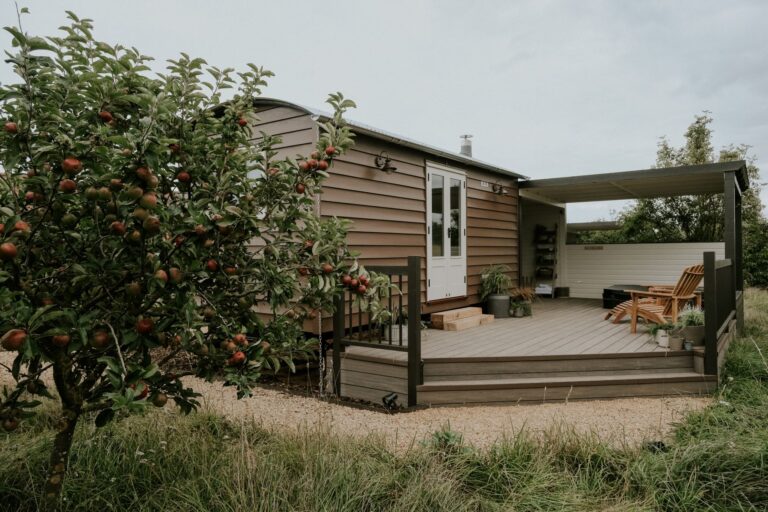 Sea Lavender
Pantile is a colour that I have used and loved for the last few years, so instinctively wanted to have a hut (Sea Lavender) in this colour, a gentle, earthy pink that sits so well against the fields and grasses.
Samphire
The other hut (Samphire) is painted in Conker, a brown as rich and delicious as the name would suggest.
"Having used their paint on several projects, the quality of it means that we can never compromise and use another brand, it is such a wonderful paint to use, and is incredibly durable, even years on, the exterior woodwork on previous renovation work still looks freshly painted. The Pure Matt Plus stands up to the wear and tear of hotel life".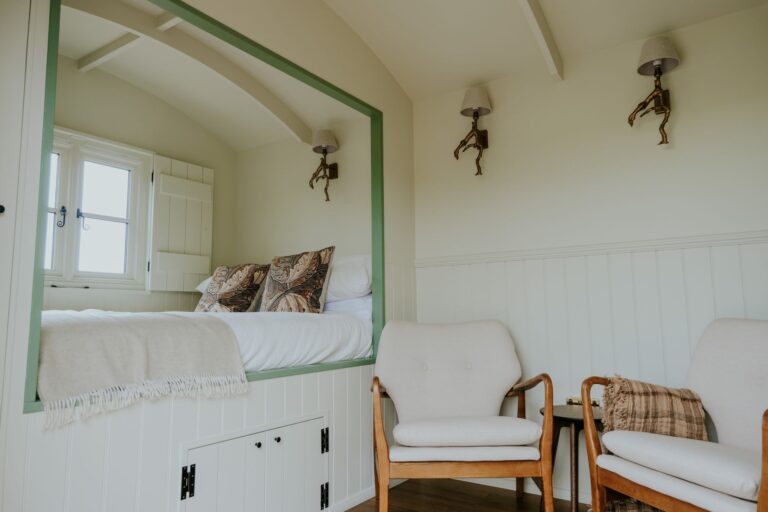 Sea Lavender – room 33
Wax Lyrical, a very subtle green, is another shade that I have used time and time again, it works so well in the south facing light, providing just enough colour that it doesn't get bleached out. I paired it with the bolder green of Cuttings, which dictated a beautiful colour scheme for the interior soft furnishings.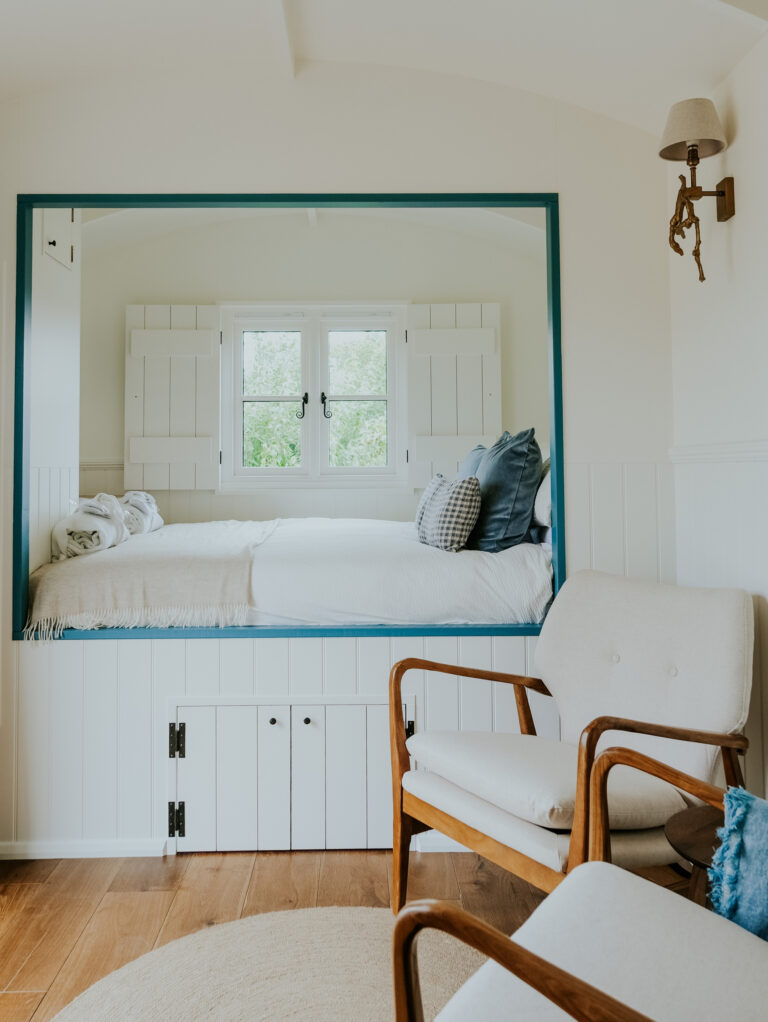 Samphire – room 32
I used Barn Owl, my favourite neutral colour, which seems to go with everything, and it sits alongside the woodwork colour Rutland Blue so beautifully.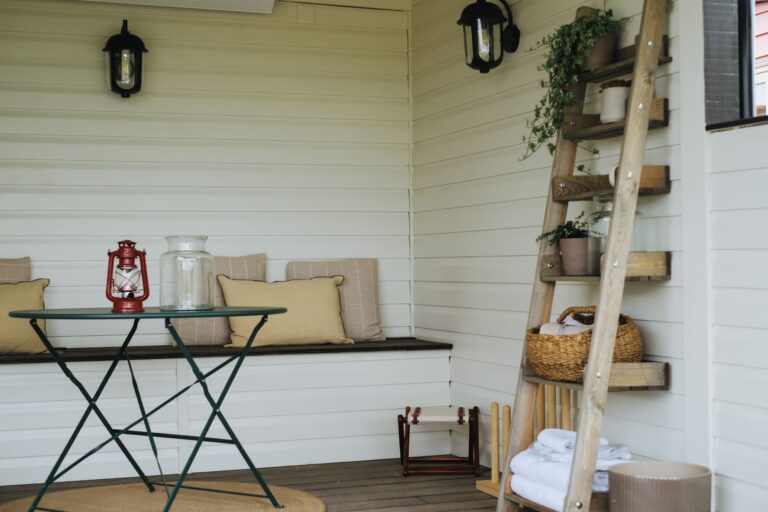 Shop small and supporting local business
I was initially drawn to use Fenwick and Tilbrook because they are a local company, using the Norfolk landscape and coast as inspiration for many of their palettes, and I think as such, I feel connected to the colours, which capture so much of what Eric and I love about this county.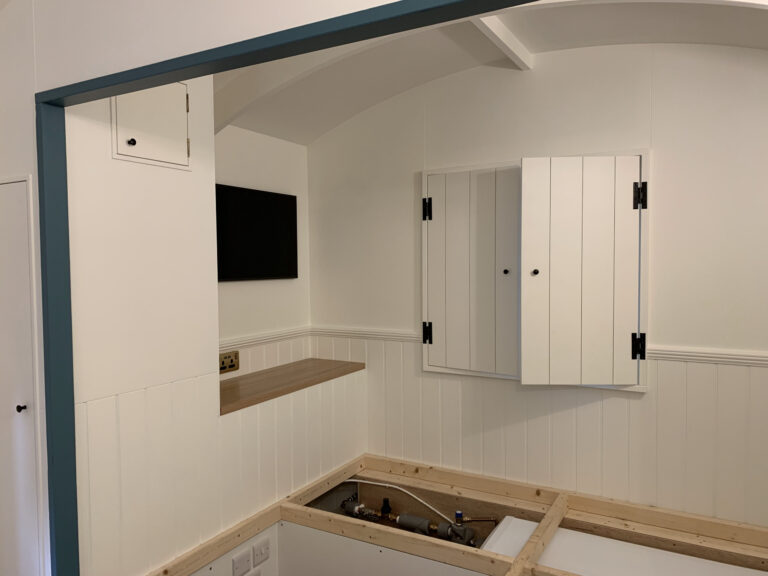 Made by the English Shepherds Hut Company
"We at the English Shepherds Hut company always strive for quality, whether it be from the timber and hardware we use right down to last coat of paint before it leaves the workshop. Having been introduced to the range from 'Fenwick and Tilbrook' it is now firmly in our collection. It's coverage and quality are incredible, knowing everything is manufactured here in the UK and sourced locally this really is a selling point for us." Robert Ferrier-Hanger, Operations Manager
"Fenwick and Tilbrook's paint is so easy to use, it covers well and is a pleasure to work with. Most of our huts are rented out as holiday accommodation so durability is key, any marks or scuffs are easily wipeable and washable." Russel Pope, Head of painting
Written by Lydia Snaith, who owns Titchwell Manor with her Husband, chef Eric Snaith.
Featured Colours